Integrated, assimilation-minded websites are making disciples, not just filling seats.
"Your website is part of your outreach."
We've been telling churches this for years and, while it's still true, it's not the whole truth anymore. The needs of the modern church have changed over the last few years and websites are changing to meet those needs. We're in the middle of a significant shift in how churches are choosing to spend their time and money… and how they're using the internet to power their ministry. Church websites are not just an outreach and informational tool anymore – they've become an essential tool for discipleship and assimilation.
Prior to this shift in focus, a pretty good church website would give potential church visitors information about church service times, pastors, some audio and video of the sermons, a look into church theology, and a list of activities to get involved with outside of Sunday morning services. Most of the content on your average church website is fairly static – it doesn't change from week to week – with the exception of things like sermons, news, events, and announcements. If it was a really well-built and designed site, it would do all that with a clean, user-friendly interface and well-thought-out content displayed in an attractive and effective layout.
These websites have all of the crucial elements of an outreach-focused online strategy.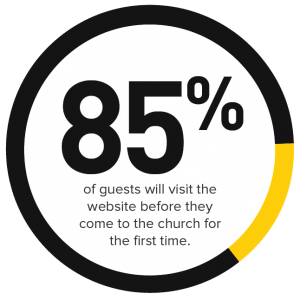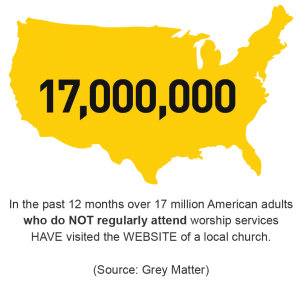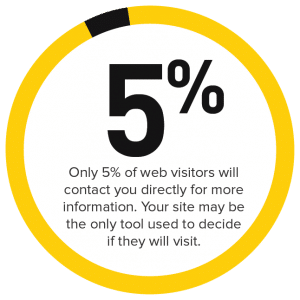 This isn't new data and, with statistics like this, it would be a huge mistake to leave outreach strategy out of the equation when building a church website.
But the biggest challenge facing churches right now isn't outreach. We've been focused on that for so long and we're doing a great job, frankly.
The biggest challenge of the modern church is assimilation.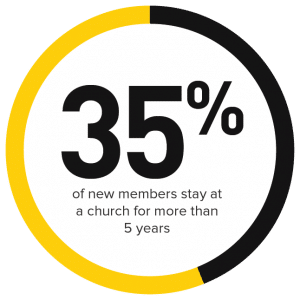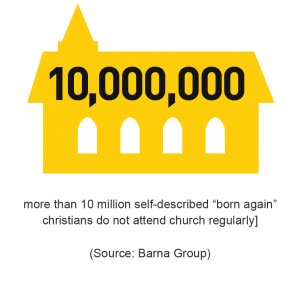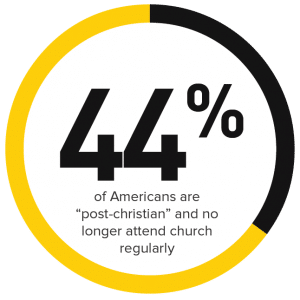 These numbers are, frankly, startling. More and more churches are reacting to this need for discipleship, not because they've seen the statistics but because they've seen the attrition in their congregations. They see new faces every, single Sunday, but their numbers aren't growing. As one pastor told us, "People keep coming in the front door… and then walking right out the back door." An assimilation and discipleship plan helps shut that back door and your website should be the centerpiece of that plan.
We've talked about assimilation before (read: Growth is a process. Do you have a plan for it?) but it's worth mentioning that assimilation is not the same as retention. Retention is getting people to come back to church a second or third time. Assimilation is growing those visitors and regular attendees into fully-engaged members of the Body of Christ. Assimilation is the first, and arguably the most crucial, part of discipleship and it doesn't just happen. It requires intentionality and passion and putting the right tools in the hands of the right people. Increasingly, churches are choosing to use their website as one of those tools and, when they do, we're seeing powerful results.
So, what does it look like when your website is both an outreach tool and a discipleship tool?
DYNAMIC CONTENT
For starters, the sheer amount of dynamic content on your website increases. Events, news, announcements, personal stories of change, and even blogs become far more important when they're intended to do more than simply show a potential visitor that your church is active. They become crucial tools for keeping your membership informed, engaged, and nurtured.
ONLINE CAMPUSES
Instead of just providing sermon archives, assimilation-minded churches are implementing full online campuses with live streaming services, downloadable resources, and online community tools like live chat, video hangouts, online small groups, digital bible studies, and online prayer tools. Online campuses are a powerful way to engage with church members that are unable to attend in person on Sundays due to distance, illness, or other personal situations. Instead of missing church and becoming disengaged, they have the opportunity to stay engaged even when life gets in the way. With new app-enabled TV technologies like Roku and AppleTV (read: Finding Your Place in the Living Room), you can even broadcast your services into homes or easily start entirely new satellite communities in living rooms around the world.
WEB APPS
Web apps are another way that church websites are being turned into assimilation platforms. We can integrate tools like member, small group, and donation management right into your website. That means that your church members have a one-stop-shop for all their membership needs – whether that's logging into their small group discussion tool, signing their child up for VBS, or setting up an online tithe. This also means that all of your data can be pulled into a single location to give you a top-down view of how your church members are growing and engaging with your church community. We build these types of apps for churches all the time and our clients tell us that they make a huge difference in member engagement. This "big picture" capability can be augmented by integrating tracking tools – like Google Analytics, Act-On, or any of a number of other systems – which help fill in the holes and tie up the loose ends. That kind of data is powerful for understanding where your congregation is getting hung up, disengaged, or even leaving the church altogether.
TYING IT ALL TOGETHER
Your website isn't just outward-facing. It can integrate with all of the internal systems that your church uses on a daily basis to keep things running. Your Church Management System (ChMS), accounting software, community management tools (like The City or Fellowship One), attendance tracking systems, email platforms, even your social media – everything can get tied into your website. This helps keep information (and people) from falling through the cracks.
MOBILE
This should come as no surprise by now, but all of this is nearly pointless if your website isn't designed with mobile in mind. 71% of Americans own a smartphone. When you narrow that down to just Millennials (people between the ages of 18 and 34), that percentage increases to over 85%. Your congregation is on the go. They have lives outside of your church building and, in order to connect and engage with them, you have to be able to go with them wherever they are – and that means mobile. This is more than just using a mobile-responsive web platform. Truly mobile websites also feature mobile-friendly content that takes care to have appropriately formatted content lengths, images, and page-breaks, uses mobile-friendly web fonts, and even integrates location-aware services like GPS, cell-tower pings, or beacon technology. Mobile isn't the future, it's RIGHT NOW and, if you're not planning with mobile in mind, you've already been left behind.
So, where do we start? Strategy.
Assess your needs as a church.
Do you have an assimilation process in place?
What does your discipleship plan look like?
How does your discipleship plan line up with your online presence?
Decide what your end goals as a church are.
What does an integrated member of your church body look like?
What actions/milestones do you want your members to do/achieve?
How can your website measure these actions and what numbers do you want to see from those metrics?
List out your current capabilities.
What is your church website doing well right now to assimilate and disciple members?
What tools do you currently have in place to support discipleship?
Do you have any way to track members through their assimilation process?
Decide on a course of action.
How will you need to change your current internal processes in order to meet these goals?
What tools do you need to put into place to meet these goals?
In what order do you need to implement these tools to make the best use of your time and money?
Once you've got a plan in place, you're on your way. The rest is creating and integrating the tools and implementing the internal processes and procedures to ensure success. That's far more easily said than done, of course, and it may mean pulling in outside expertise to build an integrated assimilation platform for you.
But is it worth the effort?
Absolutely.
"Therefore go and make disciples of all nations, baptizing them in the name of the Father and of the Son and of the Holy Spirit, and teaching them to obey everything I have commanded you. And surely I am with you always, to the very end of the age." Matthew 28:19-20 (NIV)