Television doesn't just mean broadcast anymore.
There was a time when the major networks ruled the small screen. If you watched TV, you were taking in content that had been produced, curated, or distributed through the gatekeepers of television. What a different world we live in now. With the advent of streaming content and the democratization of video content via the internet, anyone can make their way into the American living room. Anyone can be a star of the small screen.
Instead of watching videos and shows through your computer with Netflix or Hulu, you now can watch videos using your television. Roku is one of the biggest platforms for streaming your favorite internet video content to a TV.  All you need is internet access and a Roku plug-in device. You buy the hardware, connect it to your network, and start streaming. The process takes only a few minutes to complete and then you're happily viewing your top tv shows, movies, and videos from the comfort of your couch.
People have already been using Netflix and Amazon Prime as add-ons to their regular cable subscriptions for some time. Now, we're seeing an increasing number of those same people get rid of their cable altogether in favor of devices like Roku (which just announced a new version) and the freshly updated Apple TV (which now allows us to develop apps for the platform) to stream their internet video content through their televisions. Consumers are making the switch because Roku and Apple TV include previous streaming options like Netflix, Hulu, HBO NOW, and Amazon Prime while also giving them access to traditionally computer-only channels like Youtube, TED, and GoPro.
So, what does this mean for you?
This is a big deal! As a church or other organization, it's now possible to get your video content – sermons, worship, etc – on the TV screen in American households without having to pay the price to be on broadcast television. You can create your own, branded channel for people to stream your content through a Roku device. In the development process, you can customize your channel with your logo, brand-specific colors, a unique layout, and a host of other capabilities to really make it your own.
You have several options to choose from when deciding how you want your content to be delivered; live stream, on-demand, or secure content. Live stream is when the video content is being delivered simultaneously with the service or event. On-demand is basically an archived list of videos that is available for consumers to watch at any time. Secure video content is password protected and could be used to generate revenue or raise funds. Choose one or offer more than one option on your channel.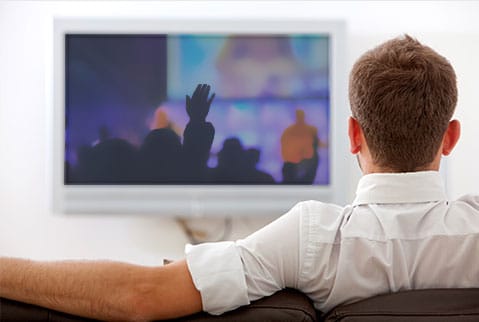 Why is this awesome?
Your content will be on a television. This may seem like a simple thing, but the potential impact is huge. People will be able to easily watch sermons from home, use video content during at-home bible studies, or stream on-demand worship. Members of your congregation will be able to access all of your content right now through their televisions in their own homes. We're seeing churches use these capabilities to expand their reach via international church plants. Missionaries can even be sent overseas with Roku technology and stream content like Sunday sermons, worship sessions, or bible studies from the home church.
This is a major shift in how we build communities and reach new people. Roku technology is expanding the definition of television to more than just broadcast. Roku has a higher market share for dedicated devices than even powerhouse companies like Youtube, Apple, and Amazon. This internet/television hybrid is a cost-effective way to extend your church's message beyond the walls of the church building.