We encourage all of our clients to approach their website content with careful consideration. Your content is the critical flow of your church or organization's information to the decision-making minds of your audience.
We understand how the directional structure of content impacts the overall health of your church or ministry and, for this reason, we encourage clients to look more closely at the quality of their content. Most churches expect their content to engage visitors and draw target audiences into their website to find out more information. But if your objectives are not clearly defined and well executed, the outcome will cause a major hit to your visitor engagement and overall growth as a church body.
All of us can agree on the undeniable value of good content, so why does poor content seem to be a common issue? This defines an everlasting struggle for web designers and developers across the globe, ourselves included. In all of our concentrated efforts to design and develop pixel perfect websites, we find content mismanagement a commonality among CMS users.
What does good content look like?
The best content first relies on a clearly communication defined strategy. Experienced design and writing skills support the following steps.
For example, look at this Overview page from our client's site: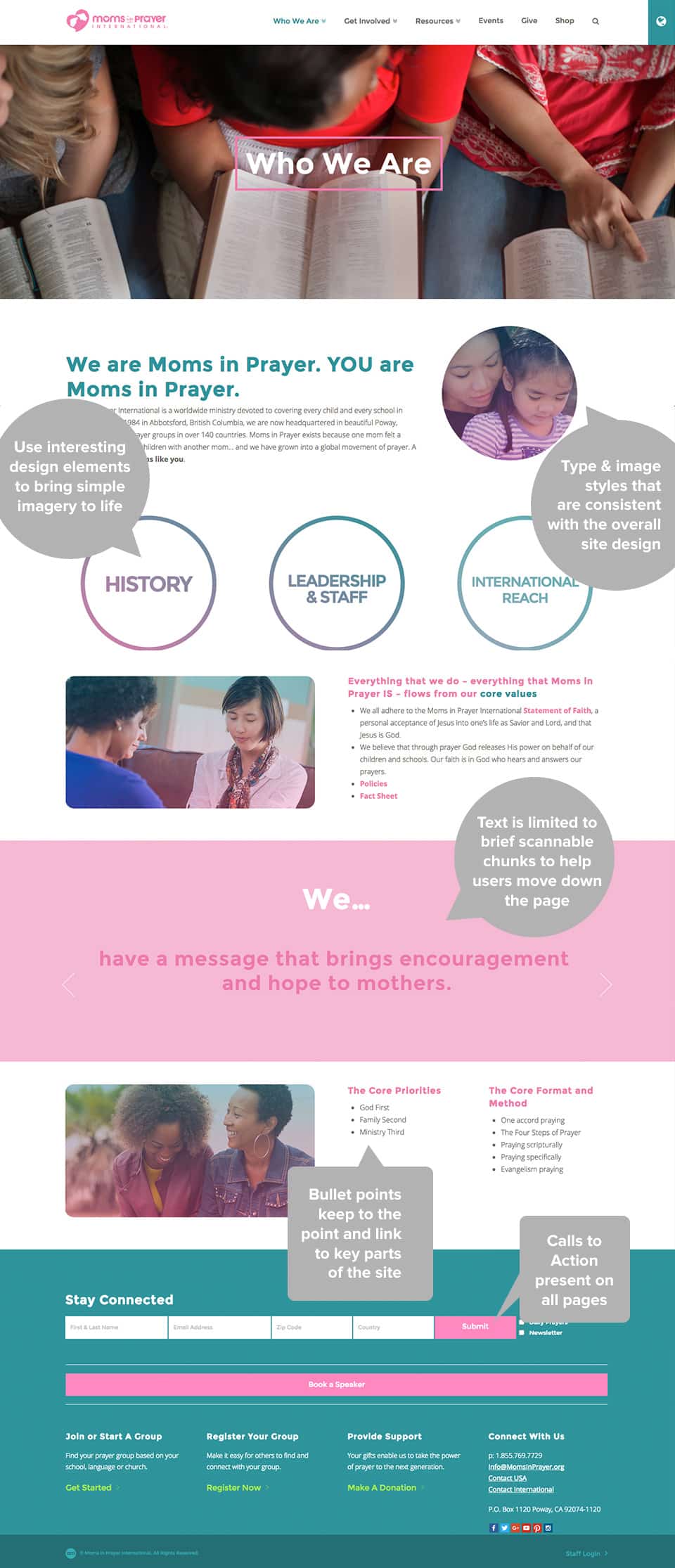 This page is a standard content page that is typical of pages on many church websites. Typically these 'about us' type of pages are wordy, have less engaging imagery, and generate very few clickthroughs to other pages in the site. We wrote this content, designed it, and added it to the CMS for our client to ensure that it was done correctly and aligned accurately to the overall site strategy.
We understand why so many churches and organization choose to take content matters into their own hands.  Typically, when clients are left with the responsibility of producing content on their own, they'll find themselves overwhelmed with the amount of time and effort involved in the process. When this happens, we often see a shift in project timelines, delays to the site launch date, and hastily populated pages that aren't in line with overall site goals.
Please don't hear us incorrectly; not all projects fall down that slippery slope. We know that some clients are completely confident in writing, entering, and managing their own content. Although, we highly suggest content services for all projects, especially for church or organizations with any doubt in their minds about the competency of their team to fulfill project requirements with publishable quality on time.  Most clients who buy content services find comfort in the professional management of their material; content is much more impactful when incorporated into the overall strategy of the project.