"Doing church" these days isn't as simple as it used to be. Technology has allowed (and, in some cases, forced) churches to grow and stretch in directions that didn't exist 10 years ago. With this new flexibility comes a host of technical challenges and theological questions to be tackled.
At AM, we've been building tools that enable churches to engage with an increasingly online congregation for years. We've had the conversations and worked through the struggles with our clients but, ultimately, we're the technology and strategy people. That's what we do best. Our clients are the experts at church.
With that in mind, we wanted to get one of them – one of YOU – to talk to us about what it means to do church in the digital age. So, we reached out to our friend Jeff Reed.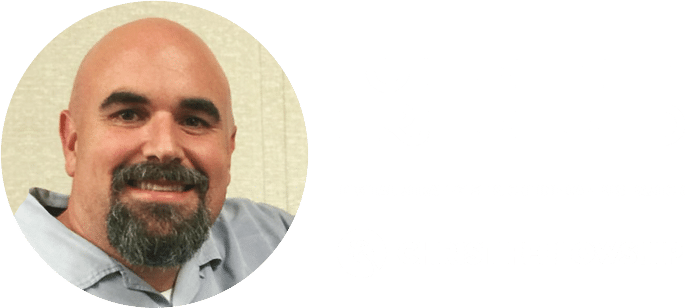 Jeff Reed is the Online Campus Pastor and Digital Strategist for Christ Fellowship Miami, a multicultural, multi-site church in Miami Florida (CF Miami's congregation represents more than 70 nationalities). And when we say "multi-site church," we're talking about 8 campuses in the Miami area, 3 global campuses (in Cuba, El Salvador, and Jamaica), and an Online campus. To say that CF Miami is diverse and dispersed is a bit of an understatement.
Jeff is in charge of making sure that all of these people and locations are taken care of and to ensure that their congregation is empowered to take the Gospel to their friends and family wherever they are. He oversees the creation and use of all of the digital tools in the church's toolbox as well as operating the Online Campus. It's a big job and Jeff approaches it with a passion and thoughtfulness that is frankly inspiring.
Let's tackle the big question: Is church even CHURCH if it's all online? What makes something "church" or not?
Jeff: Depends on who you ask. The majority of churches today would say "no". Even among our staff at Christ Fellowship, the idea of church online has been controversial.
Within Church culture today, I observe two different patterns for church "online". The first (and far more popular) is "online experience". This is relatively easy for churches to get into. Stream your services online. Visitors to your website get a sneak peek of what your church service is like. They experience it before they visit your "real" church at a physical campus. This is low impact and low risk. Why not do this?
Christ Fellowship intentionally did not only do "online experience", instead seeking to create an "online campus". Christ Fellowship holds our online campus to the same standards as physical campuses. What is the percentage of people in Small Groups? How many people are serving? Are people connecting to the Mission of Christ (Discipleship/Evangelism?). Are people attending the online campus continuing worship by giving financially?
For me, it's hugely important that we are held to this standard. I fear drive-by evangelism. We have seen people accept Christ quite literally on the other side of the globe. If we are not operating as a campus providing Discipleship opportunities, how do we disciple these new converts? I believe the church has the responsibility that if we preach, we need to disciple.
How does online campus figure into your overall multi-campus strategy? Do you treat it like another campus or is it really its own thing?
Jeff:  As we relate to our physical campuses, honestly, I believe the online campus is a huge asset to our physical campuses in Miami. First off, we do give potential visitors to CF campuses a great sneak peek. And, considering that the average person attends a physical campus 2 weeks a month, we do provide options for people traveling or sick to stay connected to God (and to CF) through an online service. I am intentional each broadcast, though, to say that "if you are in Miami, check out cfmiami.org for a listing of campus locations and times." I don't want people in Miami attending the online campus. There are campuses all over the city that can meet their spiritual needs. I don't want Miami. I want to disciple the world.
Are we a campus or are we independent? It's a thin line. I want to be another campus. For credibility, I fight for that label… because if CF Online is not a campus then what is it? A completely separate church? I don't know if that makes sense for Christ Fellowship to financially support a completely separate church online? Plus, Christ Fellowship's vision is huge. We fit well. So, I want to be a campus… but I realize that my problems aren't like the problems at the other campuses. The physical campuses and CF Online are really two different entities. There is some overlap… but lately, my go-to support has come more from Global Missions/Church Planting and Discipleship Pastors. That's really where the vision of CF Online overlaps with Christ Fellowship.
What elements make up a church service and what parts need to be reflected online to make an online service as church-like as possible?
Jeff: Great question. In our research, we've found that people process information differently online than in real life. So, we intentionally try to make things shorter. For example, our standard worship service at a physical campus is about 75 minutes. Online, we try to hit 55 minutes. What do we do in that 55-minute time period? We can do 2-3 songs of worship (10 min), a full or slightly-edited message and invitation/resolution (40 minutes), and five minutes for announcements. CFMiami has the luxury of a Saturday night worship service, so we capture worship and teaching Saturday night, and make edits/adjustments and remix audio after the service Saturday night for broadcast online Sunday morning. This shortened service is scheduled for playback for 15-20 services a week, and we have volunteer chat hosts available for the majority of these services.
Another important issue is that we do announcements specifically for the online campus. The content for announcements are specific to the campus. We do not assume that announcements for the primary campus are relevant to online, so we make modifications to the announcements specific for our online-only audience. These announcements typically include a welcome/intro, a more meaty "midtro" with specific points where people can connect deeper in ministry, and an outro that applies the invitation/resolution from the message.
One of the questions I get asked a lot is, "How does CF Online do Communion? Baptism?" Great question. I don't know the answer. We have seen people accept Christ around the world. We've batted around ideas of working with missionaries to do the practice of Baptism, and leading people through doing their own Communion as part of the worship service. More coming!
We do four different services a week with CF Online. Not only English for adults (which is our largest), but we also do Spanish for adults, American Sign Language for the hearing impaired, and a broadcast specifically designed for kids. What works in English may not work in Spanish, and Christ Fellowship (who is historically an English-first church) is now wrestling church-wide with how to become an English/Spanish equal church. This will impact physical campuses as well as online. Right now we are having conversations about redoing our entire Deaf Broadcast online as the more we've delved into the Deaf culture the more we realize to really reach the Deaf we have to think like the Deaf, and not like the hearing think about the Deaf. Sounds convoluted, but it's true. We have to figure out how to reach people online, and also to reach people in their culture.
In the coming months, CF Online is going to be expanding our online campus even more, as we will be bringing on one of our Global Campuses in El Salvador, allowing them to broadcast on our platform. We're in the process of working with other Global Campuses in other countries as well. More than anything, we have to reach people where they are in ways they can understand and connect them to a God who cares for them. How great is that?
Gateway Church (Texas) live stream viewer statistics 2015
(Source: Annual Report)
Total Viewers of Weekend Services
Average Weekly Views of Weekend Services
Ustream Viewers on Sunday
Who attends online church? What does that demographic look like and how do you tailor the experience for them?
Jeff:  Demographics are all over the map. I don't know that I've picked up any trends yet. I can tell you the surprising demographic of people who are wanting to serve and have caught the vision the easiest? 50-65 female. It was shocking to me. I couldn't explain it, where all these women were coming from, and how on fire they were to do this. Couldn't understand it until one of my pastors explained it to me. "People at that stage of life are looking for ways to prolong their ministry. The distance of online actually gives older people an opportunity to continue doing ministry with people who may not have given them the credibility face to face." Don't know if that's fact, but it's been fun teaching some older dogs new tricks.
Who manages the online campus staff members? Do you have a dedicated pastor who has "ownership" of that "congregation?"
Jeff: Great question, and one that we went back and forth on. Initially, I was hired to fill the role of a "Digital Strategist" to work with developers. The longer I was in the role, the more "pastoral" my approach became. Eventually, CF just decided to call me the Online Campus Pastor, and now in addition to the Technical Aspects, Strategic Aspects, I am also responsible for the Pastoral Aspects of the Online Campus. I do oversee a phenomenal team of staff and volunteers who follow a ridiculous vision of creating an online campus in multiple languages reaching and discipling people in multiple countries on multiple continents. I get to do this!
Ownership is key. In my experience, ownership requires a vision. For someone to own, there has to be a vision to own. If there's no vision, chances are no one really owns it. If no one owns it, no one cares enough about it to give it a vision.
How is your online campus different from your other campuses from an organizational, ministerial, and missional perspective?
Jeff: CF Online is understaffed compared to other campuses. Arguably, CF Online right now is the second largest campus in worship service attendance at Christ Fellowship. Our largest campus has a 1,300 person worship center which does five services a weekend; in addition, three other large buildings operate daily, housing our ever popular Children's Ministry, a vibrant Middle School and High School group, Young Adults, Small Groups, etc. The org chart at this campus is huge. Just imagine the number of janitorial and facilities people needed to keep our eight-acre campus going. And CF has a huge volunteer culture in place, too! Even still, the staffing is big… because of the requirements to support a physical building filled with physical people. Because of the nature of online, we can reach far more people with far less staffing.
We have also seen volunteers buy into the vision of Online. We currently have volunteers as far away as Lima, Peru who regularly serve with CF Online helping us translate content into Spanish. CF, being in Miami, has a huge vision to reach Central and South America… largely because that's where the majority of CF members are from. Casting a vision to CF about how they can reach their country for Christ? That's not a hard sell.
It's very easy to for people to get disconnected in an online church. I read a book years ago by John Naisbitt called High Tech High Touch. The premise is simple… the more technology you use (in your company) the more relational you have to be to overcome the coldness and distance that happens in technology. These are the challenges we face regularly at CF Online. How to keep people from getting disconnected/hiding behind their laptop screen.
How do you manage small groups in an online-only environment?
Jeff: I had great plans for online small groups. Had talked with a number of people about Small Group content, had worked deals with national publishers getting permission to use their content. What seems to be the most popular? Discipleship Groups… groups focused on helping people grow deeper in their faith… and Bible-based groups. We are considering going to all "Discipleship" Groups instead of Small Groups to show several things: 1) an intentionality for people to grow deeper in their faith 2) an intentionality to get people to be more open with each other 3) an intentionality to get people focused on evangelism
So, how does discipleship work in an online church? What tools and tactics do you use to enable and encourage Christian growth?
Jeff: This is the secret for CF Online… Discipleship. Here it is. The endgame of CF Online is not to have a bunch of people staring at their laptop screens on a Sunday worshiping God. The goal of CF Online is to plant House Churches. That's right. CF Online without Discipleship is pointless. Let me give you a made-up scenario. Susie visits CF Online. Accepts Christ. We get her connected into a Discipleship Group, and in that group, we teach her 1) the importance of growing deeper in her faith, but also 2) who she is in Christ, and 3) what her story is through Christ, and how others need to hear it.
If Susie catches that vision, and shares with others, this is incredible. If others accept Christ, to God be the glory. And if those others want to join church somewhere else, they are encouraged to do so. But if not, Susie (and largely, CF Online) is now responsible for Discipling them. Throw in several generations into the mix, and you could have 20 some believers looking for a church home. CF Online wants to be a part of that. Not only creating church opportunities for people on laptop screens but on big screen TVs in living rooms around the world, empowering people to grow deeper in their faith while growing more connected to God and to each other in a Discipleship Community.
Here's a fun story. CF Online right now has a discipleship group running. We call it our "Digital Street Team". Essentially, we are discipling these people, encouraging them to share their story within their circle of influence, which for these ladies is Social Media. As part of the Digital Street Team, we're walking them through how to engage community online. This isn't just a "witness to your old high school classmates" thing (although that is important). We're looking for people who are connected online, who engage and build relationships by following hashtags, or locations/events, and build relationships online in these communities. A huge win would be for our Digital Street Team to get some people in these online communities to start asking spiritual questions. If that equates to people connecting to CF Online for church? Great! If it's another church? Great! If it's just planting seeds that God may use later? Great!
Tell us about the technologies that you're finding the most useful at your online campus.
Jeff: There are two technologies that we've implemented that have gone far above expectations…
Live Person – we've all seen the chat button integrated into websites. "Live Help" or things like that? We started using Live Person on CFMiami.org when we launched our new website, and we were very impressed with engagement. So much so, we're extending the impact. We are launching specific campaigns on our sermon archive pages, with Counselors (staff and volunteer) available to answer questions. Before and after each sermon there will be a short video announcement encouraging people, if you have questions or want to discuss the sermon you just watched, click the "I have questions" button. Volunteer or staff will be immediately available to talk – yet another example of not allowing drive-by evangelism. If someone feels a need to process/work through something online, it's our responsibility to be there for them.
Blue Jeans – the challenge of a dependable small groups video conferencing solution that can handle large amounts of webcams simultaneously was a hard solution. Blue Jeans has fit the bill. With Blue Jeans, we can have up to 20 simultaneous webcams running in a video conference room. We tried several free services but were limited in the number of people we could have in the room at the same time before software got slow or just crashed. We cap off our Discipleship groups at a much smaller number than 20, but there's definitely room to grow. What I love about this software is that you can see 9 webcams at the same time (in a Brady-bunch Tic Tac Toe grid), and it's ridiculously stable. If someone has a bad connection, that person alone disconnects… as opposed to some other options where everyone is forced to disconnect and reconnect. Tech support is phenomenal. The solution is a bit pricey, unfortunately, but the stability and support we get from them is worth the cost. We went with cheaper solutions previously, and it didn't work. Blue Jeans nailed it. Plus, iOS and Android support, as well as native Mac and PC apps, and also web portal? Incredibly solid. Not just for CF Online, but for the entire church helping staff move to volunteer meetings online instead of in person.
We tend to focus on tech but how do we do church online and keep it personal?
Jeff: When we launched our newest platform, CF Online's attendance shot through the roof. We seem to be setting new records each week practically. Engagement is much higher, as is excitement. However, the attendance is not the thing I wanted to celebrate. Let's celebrate the 50+ people who accepted Christ in online services in the first six months of 2016. Let's celebrate the dozens of people who have reached out to us recently asking specifically for help growing in their faith, or the hundreds who have contacted in recent months asking to be a part of the vision of CF Online. Don't celebrate Google Analytics! I don't believe that's an accurate view of ministry, just like the guy sitting in the back pew of the worship center half asleep during the message isn't an accurate view of ministry at a physical campus. For CF Online, getting connected to a service is the front door to something better… this is where ministry (and an Online Campus) shines.
What are the biggest challenges facing online churches?
Jeff:
Vision – Sometimes your church may not have a vision for Church Online. Create a vision where there isn't one. Remember this, though… always align to what's happening already at the church. How can Church Online help the vision of the church? Or the vision of specific ministries? Getting people on staff who see your vision (because it's helping them complete their vision) will help give you credibility later when needed.
Stability – "Why would I pay for these services, when I can get this other service for free?" Unfortunately, this is the attitude of some pastors/churches today. Sometimes a free service will work. Sometimes, you gotta pay for the features. Learn how to pick your battles, when to settle, or when to fight.
Faith – the sovereignty of God has become more apparent to me as I've been down this road. God, only you can orchestrate this. Bless others by helping them see seeds cast on fertile soil, so they can realize the great potential of the Online Church.
---
At the end of all of this, Jeff's answers immediately brought to mind so many conversations that we've had with clients over the years as we work through this process with them. If your church is having this discussion right now, you're probably facing one or more of these challenges. Be encouraged – you're not alone. And the struggle is totally worth it. Just ask any of the hundreds of lives changed by CF Miami's Online Campus.