If you've been looking to improve or update your website in the last 3-4 years, then you've likely heard the term "Responsive Web Design" (RWD).  You'll hear it now more than ever before and there's a good reason for that.
Responsive Design, as you may or may not know, is a term used to describe a specific type of user-friendly, mobile-oriented web design which allows online users the most optimal viewing experience across any device or screen size. You've probably visited a handful of websites by now that have been optimized with RWD. Responsive content is easily viewable on any screen size. Content automatically adjusts to accommodate size and spacing without forcing the user to pinch or zoom on their mobile device.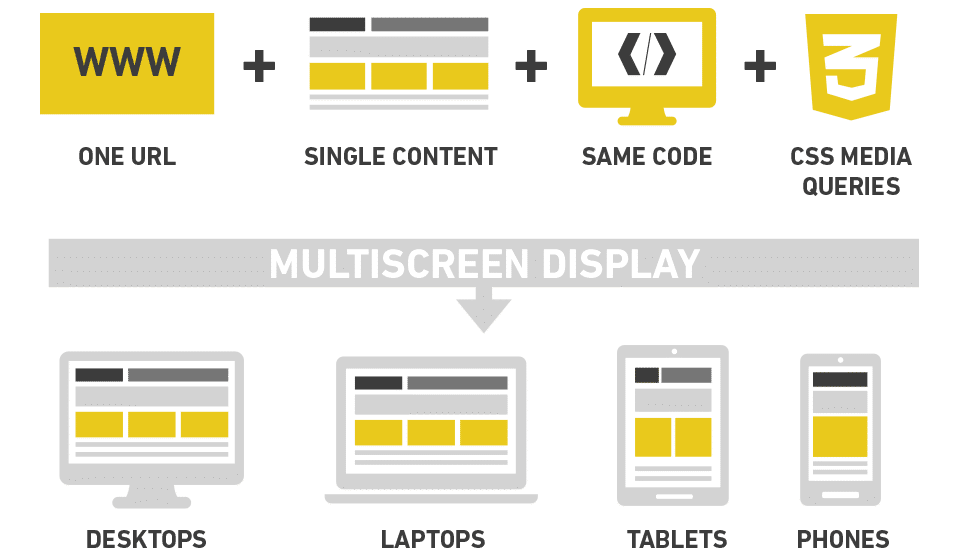 Responsive Web Design has gained an extreme amount of popularity since developers first began discussing it's functionality in 2010.  The tech industry grabbed hold of the concept right away and, now, firmly promotes the benefits of its functionality because it solves many major problems that many websites (sadly) still struggle with today.
One common issue of principal concern involves the rapid growth and expansion of technology in general.  Advancements, updates, and trends can be extremely difficult for the average person to keep up with, yet, the average person becomes increasingly dependent on the handheld computer in his or her pocket. As web designers and developers, we constantly have to monitor updates and regularly adjust our thinking in order to keep up with the times and provide better solutions for the average person. In fact, the prerogative of technology is to make everything as simple as possible for the average person. Since RWD remarkably simplifies user experience across online technologies, one can understand why it's a critical topic of our business conversations.
Responsive Web Design emerged as a response (pun intended) to many mobile browsing problems we've encountered in the past and it's now becoming the standard.  RWD has helped turn the clunky, pinching and zooming internet into the current, fast, and practical internet we enjoy on our desks and in our hands today.
While RWD resolves many website troubles, the app and the mobile site still reserve their respective benefits for certain projects. Depending on the client's goals and audience, some projects can reap even more benefits from an app or a mobile site. We think it's important to consider how RWD might be able to handle what we're trying to accomplish before proceeding forward with an alternative solution.  Typically, we'll identify if the project is right for an app or a mobile site during strategy.
We strongly urge our churches and nonprofits to consider Responsive Web Design when it's time for an upgrade. It helps avoid potential technical complications across platforms and will keep your website content relevant and readable into the future.  If you're looking to build or update your website, we highly recommend looking more closely into the benefits of Responsive Web Design first.